Govan Old: Its Place in Nineteenth and Early Twentieth Century Church Design

By

David M. Walker, O.B.E., D.A., F.S.A., F.S.A.Scot., F.R.S.E., H.F.R.I.A.S., LL.D.
Chief Inspector of Historic Buildings with Historic Scotland.
Rhind Lecturer 1990/91
Dr. John Macleod's rebuilding of Govan Parish Church marked the culmination of 70 years of architectural development towards a more dignified setting for Presbyterian, and particularly Established Church, worship. In Govan, the problems of combining a good auditorium for preaching with convincing neo-mediaeval architectural forms had at least been reconciled. At almost every stage, the resolution of these problems was closely related to trends in Anglican, Episcopal and Roman Catholic Church design. This paper, therefore, sets these out in parallel.
The church which Macleod replaced was a Georgian gothic rectangle with a spire, designed by the amateur architect James Smith of Jordanhill in 1825 and still sufficiently esteemed to be first thought worth reconstruction and eventually re-erection as Elder Park Parish Church. It was rather old-fashioned by the date it was built, stylistically half in the Georgian gothick idiom of the earliest years of the century and half in the more up-to-date neo-Perpendicular idiom of the 1810s and 1820s. Prior to about 1815, the average presbyterian church building, whether classical or gothic, had comprised a large single-span rectangle with the pulpit in the centre of one of the longer walls facing a U-plan gallery on timber or cast-iron columns, an arrangement which produced a standard elevation of two large windows flanking the pulpit, flanked in turn by smaller openings at ground floor and gallery levels. Only in a few more architectural examples, notably Allan Dreghorn's St. Andrew's Parish Church, Glasgow ( 1739-56 ), James Gibb's West St. Nicholas, Aberdeen ( 1755 ) and James Playfair's Barony, Kirriemuir ( 1789 ) were arcades or colonnades and a more processional arrangement with the communion table at the far end of the long axis attempted, but in the early years of the century, notably at William Stark's St. George's, Glasgow ( 1807 ) there was a tendency to locate the pulpit there even in simple single-span churches. Though less efficient for hearing the preacher, the arrangement had a less crowded and more devotional atmosphere.
In the late 18th and earliest 19th century, ecclesiastical gothic was not much more than a matter of making the arches pointed. The steeples of Eaglesham ( 1788 ), Comrie ( John Stewart, 1805, Plate 1 ), Crimond ( 1812 ) and Forfar ( Samuel Bell and Patrick Brown, 1814 ) parish churches still followed essentially Gibbsian models with their octagonal belfry stages. The large Y-traceried windows with timber sashes flanking the pulpit were little different from those fitted to provincial classical churches of the same date. Rather closer to mediaeval gothic forms was the pinnacled square tower of Richard Crichton's parish church at Craig ( 1799 ) which was, very exceptionally, also distinguished by an interior rib-vaulted in plaster. But, pretty though they were, the details of the doorpiece and the pinnacles of the tower drew upon the publications of Batty Langley half a century earlier rather that on original mediaeval examples. Occasionally centralised octagonal plans were adopted to secure a better preaching space as originally at Eaglesham ( 1788 ), John Paterson's baronial gothick churches at St. Paul's, Perth ( 1807 ) and Fetteresso at Stonehaven ( 1810 ) and at Archibald Elliot's Glenorchy ( 1811 ), all more influenced by Mr. Wesley's chapels rather than by mediaeval chapter houses.
Plate 1
None of these was convincingly neo-mediaeval. But in the second decade of the 19th century, expectations of architectural scholarship greatly increased, a trend which can be directly linked to John Britton's Architectural Antiquities published from 1805 onwards, a book which found a place in most country house libraries and enabled clients as well as architects to be better informed. Its plates gave ready access to gothic detail in a way that Fracis Grose's plates of Scottish antiquities had not and resulted in English gothic, and particularly Tudor gothic, rather than the native gothic which might have been directly observed, becoming as universal in Scotland as it was in England.
The new trend was first apparent in country churches built for discerning landed gentlemen but soon spread to the burghs. In 1813, a correct neo-perpendicular church was built at Collace, its external form being adapted from Britton's plate of Bishop Skirlaugh's chapel. Its probably authorship by James Gillespie Graham is not yet confirmed but it inaugurated a long series of churches designed by him on the same model at Clackmannan ( 1815 ), Muthill ( 1826 ) and elsewhere. Not all of them have the merit of the Collace church, the proportions being variously expanded in length and width according to the requirements of the congregation. Essentially similar, but more consistently well detailed, were Dacid Hamilton's Erskine Parish Church, following closely on Collace in 1814, the same architect's St. John's Parish Church, Glasgow ( 1816, Plate 2 ) and Larbert Parish Church ( 1817 ) and William Stirling's Lecropt Parish Church ( 1826 ).
Plate 2
Similar again, but less sophisticated in detail with wood tracery, were the more ambitious of John Smith's churches in the north-east from 1821 onwards. All of these were single-span churches, mostly with horseshoe galleries centred on a pulpit at the far end of the long axis. Similarly indebted to Britton was Gillespie Graham's parish church at Alloa ( 1817 ) with a spire adapted from his plate of Louth, which Gillespie Graham repeated on a much larger scale at Montrose in 1832. Gillespie Graham also set the pace for the more ambitious urban churches of the period. His St. Mary's Roman Catholic Chapel ( now Cathedral ) in Edinburgh ( 1814 ) inaugurated a long series of churches in which a simple single-span rectangle was masked by a neo-Perpendicular 'nave-and-aisles' front. Much more ambitious was his St. Andrew's Roman Catholic Chapel ( now Cathedral ) in Glasgow, also of 1814, which had a 'college chapel' front, aisled and clerestoried nave and plaster rib vaults ( Plate 3 ). Still more ambitious were two aisled and clerestoried Edinburgh churches built for Episcopal congregations, Archibald Elliot's St. Paul's with its fine 'timber' ( actually plaster ) ceilings and William Burn's St. John's with its elaborate plaster fan vaults, both 1816: as originally designed the tower of St. John's was modelled on that designed by Thomas Harrison for St. Nicholas, Liverpool ( 1811 ), a discriminating choice as few would then be aware of the work of that Chester-based master.
Plate 3
St. Andrew's, St. Paul's and St. John's were to remain unmatched for many years. Except perhaps for St. Mary's, Haddington, where Archibald Elliot and James Burn raised the mediaeval arcades to accomodate galleries in 1811, only at a single country church, Kincardine-in-Menteith, built for the Home-Drummonds of Blair-Drummond by Richard Crichton in 1816, was the clerestoried nave and aisles formula adopted for a Church of Scotland building.
In the 1830s and 1840s there was a considerable vogue for neo-Norman, most notably at James Gillespie Graham's Parish church at Errol ( 1831 ) and Roman Catholic Chapel of St. Anthony the Eremite at Murthly ( 1846, Plate 4 ); Thomas Hamilton's large parish church at Alyth ( 1839 ); John Henderson's North Church at Stirling ( 1841 ); and David Cousin's St. Thomas's Church of England and St. Cuthbert's Free Churches in Edinburgh ( both 1843 ), the last subsequently re-erected as Stockbridge Free Church. Of these, the Chapel of St. Anthony the Eremite is, as Dr. McKinstry has already pointed out, of some relevance to Govan inasmuch as its wide-naved, narrow-chanceled plan form may have provided the inspiration for one of its prototypes, the Catholic Apostolic Church in Edinburgh, of which more later.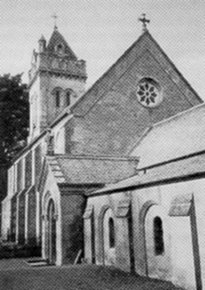 Plate 4
William Burn has also adopted neo-Norman in a simple form at Morton Church ( 1839 ) and in a number of smaller country churches. But by the late 1830s, Burn had come to have a marked preference for Early English, most notably at West Church, Dalkeith ( 1840 ) and Langholm ( 1842 ), both for the Duke of Buccleuch venturing into mid-Decorated with late 15th century Scottish arcades in his remarkable rebuilding of St. Mary's Parish Church, Dundee ( 1844 ) a galleried solution similar to Elliot's reconstruction of St. Mary's, Haddington, 33 years earlier. Burn's details drew upon his experience in reconstructing St. Giles', Edinburgh in 1829.
The early Decorated style favoured by the Tractarian movement had made one pioneer appearance earlier, at Thomas Rickham's St. David's Ramshorn Glasgow ( 1824 ), a church otherwise of simple T-plan form with a frontal tower. But, in general, the neo-Perpendicular style introduced by Gillespie Graham, David Hamilton, Elliot and Burn in the second decade of the century remained the norm for better class church design throughout the country until the late 1840s, the most common type being the single-span rectangle masked by a 'nave-and-aisles' front in which the 'aisles' demarcated the gallery stairs. It served for all the Presbyterian denominations, Catholics and Episcopalians alike, with differences only in the disposition of the gallery and furnishing. But at William Burn's large neo-Perpendicular parish churches at Thurso ( 1833 ) and Minnigaff ( 1836 ) and his assistant David Bryce's even more ambitious church at Monkton ( 1837 ) the familiar flat-ceilinged single-span form was superceded by slim cast-iron colonnades bearing plaster rib-vaults, a type of church design which reached its finest expression in James Brown's 'United Presbyterian Cathedral', the Westminster Tudor gothic Renfield Street Church of 1849. But, by the 1820s transepts had become a feature of better class Established Church design as they provided convenient T or Greek Cross plan forms. William Burn's Dunfermline Abbey ( 1821 ) designed to recover something of the lost crossing and choir of the mediaeval abbey church, pioneered the type, which was extensively adopted not only by Burn but by Gillespie Graham at Errol and Greenside, Edinburgh ( 1838 ) and by Thomas Hamilton at Alyth.
The progression of the gothic revival from the neo-Perpendicular churches of the reigns of George IV and William IV to correct Early Decorated and Early English forms drawn from the wide range of published material, including A. W. N. Pugin's own designs for modern churches, was at first primarily a markedly upper class Episcopal Church movement. Secular clients tended to prefer Renaissance, neo-classical and baronial models. But although many congregations, particularly United Presbyterian ones, also preferred classical models as being without Episcopal or Catholic connotations, the Early Decorated style of the Tractarian movement was gradually adopted by all Presbyterian denominations and towards the end of the century Episcopal church planning had a considerable influence on Presbyterian church design.
Tractarian gothic was a development more associated with a new generation of architects rather than with established figures. David Bryce could be a skilful designer in the new idiom as can be seen at his reconstruction of the Parish Church of St. Nicholas, Dalkeith ( 1851 ) which probably reflected the wishes of the Duke and Duchess of Buccleuch rather than those of the congregation. Their personal tastes can be seen at the slightly earlier Early English Episcopal Chapel of St. Mary nearby, designed by Burn and Bryce and built in 1844-54. But the Scottish leader of the Tractarian movement in architecture, as against the major London architects invited across the Border, was John Henderson, a pupil of Thomas Hamilton. The contrast between the hybrid gothic spire he added to the parish church at Arbroath in 1839 to his pure English Early Decorated St. Mary's Episcopal Church ( 1847 ) in the same town is marked indeedl. Henderson was, however, rarely entrusted with really large churches despite his impressive performance at Trinity College, Glenalmond ( begun 1843 ) where he began a great Oxford college in the Perthshire countryside, the completion of which fell to George Gilbert Scott.
Scott was not the first major Tractarian architect to cross the Border. That distinction belongs to William Butterfield who made his debut rather earlier with a minor work, St. John's Episcopal School, Jedburgh ( 1844 ) before going on to design the Episcopal Cathedral on the Isles of Cumbrae and St. Ninian's Episcopal Cathedral at Perth, both begun in 1849 and financed by the Hon. G. F. Boyle, later the Earl of Glasgow. Benjamin Ferrey was the next to make an appearance, at Holy Cross Episcopal Church, Melrose in 1846. Scott made his first serious appearance at Dundee 3 years later with his tall-spired Episcopal Church ( later Cathedral ) of St. Paul for Bishop Forbes, the continental hall church and nave and aisleless apse of which has echoes of his Nicholaikirche scheme for Hamburg. His ex-assistants, William Hay and Henry Edward Coe, had settled in Canada, designed the very original saddleback towered church of St. John at Longside ( 1853 ) while on a visit to his mother. Coe came to Scotland as a result of his competition win for the giant Tudor collegiate Infirmary at Dundee ( 1852 ). In the same city, he also secured commissions for the 15th century English manorial Farington Hall ( 1853 ) and, more significantly for the purposes of this paper, the Episcopal Church of St. Mary Magdalene, not large but remarkable for its adoption of the so-called Gerona plan, in which the nave encompassed the width of the chancel and its aisles, a plan form which was soon to be significant in Scottish church design and to that of Govan in particular ( Plate 5 ).
Plate 5
A better-known pupil of Scott's, George Frederick Bodley, was responsible for another of Bishop Forbes' Dundee churches, the plain but richly-stencilled St. Salvador's, built for his chaplain in 1868. Much larger than St. Mary Magdalene's, it was a broad-naved church with narrow passage aisles which anticipated those of Govan. Like Govan, it was a preaching church for a working class congregation.
The Roman Catholic Church was a major builder of Pugin-inspired churches in much the same vein but had no equivalent to John Henderson. Nearly all its major commissions went across the Border. A. W. N. Pugin never built the cathedral planned for Edinburgh but, illicitly, he did design the Catholic Apostolic Church in Glasgow ( 1852 ). His son, Edward, built St. Mary's, Leith ( 1852 ) and the much finer church at Glenfinnan; Joseph Hansom St. David's, Dalkeith ( 1853 ) and St. Mary's Lochee, at Dundee ( 1865 ), the latter a very original design with an octagonal tower chancel like his St. Wilfrid's at Ripon; William Wardell the Immaculate Conception, Kelso ( 1857 ) and the much more ambitious Our Lady and St. Andrew's, Galashiels ( 1856 ); and George Goldie St. Mary's, Lanark ( 1856, largely rebuilt since ), Our Lady of the Garioch and St. John's, Fetternear ( 1859 ), and the unfinished St. Mungo's Townhead, Glasgow ( 1866 ) and St. Mary's, Greenock ( 1862 ).
Deeply sensitive of his honour as a church designer, James Kyle, Bishop of the Northern District, rose to the challenge at the twin-spired St. Peter's, Buckie ( 1857 ), a dramatic change from his basic Georgian gothic chapels of a few years earlier. Most of these had aisled naves with arcades and clerestory but none, except for St. Andrew's, Galshiels, was a wide-span preaching church such as were to influence Govan later.
Rather surpisingly, the newly-established Free Church, which had initially rushed up very cheap gothic and Italianate churches to standard plans, proved an important patron of Tractarian architecture, at least in so far as external appearances were concerned. In the 1850s, the wealthier congregations began to replace them with edifices which would be a visible challenge to the Established Church. The architects particularly favoured were John, James Murdoch and William Hardie Hay, Borderers who had settled in Liverpool. Their South Church, Stirling ( 1851 ) was little different from Episcopal and Catholic churches of the period with tall arcades and a clerestory but more usually their churches are wide single-span structures with laminated timber trusses which externally look as if they might have a nave and aisles under an overall roof. The Hays excelled in the design of spires, ranging from the orthodox, but excellently profiled Well Park, Greenoock ( 1853 ), to the very original West Church, Helensburgh ( 1856 ) and former St. Columba's, Brechin ( 1855 ). The last of these also shows a very original use of materials being built of polygonally squared 'land stones' and roofed with very large slates. Equally innovative, and worth a mention, even if not relevant to Govan was their small Anglo-Saxon church at Tarfside ( 1859 ) which was built of herringbone masonry.
J.T. Emmet was another English architect who built for Presbyterian congregations. His churches, the tall-spired Bath Street Independent ( i.e., Congregational ) Church, Glasgow ( 1849, now Renfield St. Stephen's ), Wilton Church, Hawick ( 1861 ), since enlarged, and Sandyford Church, Glasgow ( 1854 ) were all directly inspired by Pugin inside and out. The last was completed by John Honeyman and was to have a significant effect on his designs for both Episcopal and Presbyterian churches in the 1860s and early 1870s.
By the 1860s, some congregations of the Free and United Presbyterian church had acquired stronger tastes in their desire to express their triumph over the Established Church. These were met by Frederick Thomas Pilkington, the son of the Stamford Methodist architect, Thomas Pilkington who had moved his practise to Crieff in 1853. Shortly thereafter, he transferred it to Edinburgh, Ferederick studying at the University where he was Hamilton Prizewinner in logic. After 3 years of designing quite innovative housebuilding at Inchglas, Crieff ( 1859 ) and Broomhill, Burntisland ( 1858 ), Frederick toured the continent and recommenced practise in 1861, exhibiting ideal preaching church designs in a Ruskin-inspired Franco-Italian gothic with strongly textured stonework tinged with polychromy. Astonishingly, he even found congregations, which only a decade or two earlier had been scared to even have a bell, adventurous enough to finance these gargantuan structures with fantastic roof structures and unfamiliar plan forms, truncated diamonds at Trinity, Irvine ( 1861 ), Penicuik South ( 1862 ) and St. John's, Kelso ( 1865 ) and apple-shaped at Barclay, Edinburgh ( 1862 ). All of these were characterised by big-scaled naturalistic carving of the Oxford Museum school, much of it sculpted by a Mr. Pearce.
Pilkington was not the only Edinburgh architect to cater for those with robust tastes. John Dick Peddie and Charles G. H. Kinnear, better known as classical and baronial designers respectively, were responsible for Pilrig Free Church, Edinburgh, with its tall spire, double transepts with aggressive mincer plate tracery in the Samuel Sanders Tuelon manner, built in 1861-63. Of the same family, but plainer, is their Hope Park United Presbyterian Church, St. Andrews of 1864. In the following decade, Peddie and Kinnear were responsible for a number of Germanic Romanesque churches of which Bonnygate Unite Presbyterian at Cupar ( 1876 ) and East Linton Free ( 1879 ) survive. Whether or not these churches reflect the fact that both architects were indefatigable continental travellers, or the completion of the architectural education of the younger Peddie, John More Dick Peddie, in Germany is difficult to say.
Robert Thornton Shiells was another Edinburgh specialist in continental Romanesque, but his best churches in that vein, the Italian Marshall Street Baptist Church, Edinburgh ( 1877 ) and Buccleuch Street, Dalkeith ( 1879 ) have both now vanished.
In Aberdeenshire, Pilkington's counterpart was the much younger John Bridgeford Pirie, architect of the extraordinary French gothic of South Free Church, Fraserburgh ( 1878 ) and Queen's Cross Free Church, Aberdeen ( 1881 ), the interiors of which are, however, of orthodox galleried plan. Pirie was not so powerful a designer as Pilkington, but his details often show even greater originality.
n Glasgow, the key figures were John Honeyman who had returned from Burn's office in London in 1856, J. J. Stevenson who returned from George Gilbert Scott's in the late 1850s and William Leiper who had returned from the London practices of J. L. Pearson and William White in or about 1864. Of these, Honeyman was relatively conservative, preferring to follow English models while Stevenson followed Street into Italian gothic and Leiper Burges and Godwin into Early French. Each had a different solution to the problem of preaching church design. At the Free West, later St. Mark's, Greenback, Greenock ( 1861 ) and at the tall-spired Lansdowne United Presbyterian Church, Glasgow ( 1862 ), Honeyman adopted wide naves with galleries and passage aisles screened off by panelling. However different in planning, these broad-naved narrow-aisled preaching churches were not without relevance to the design of the nave at Govan later.
At Trinity Free Church, Charlotte Street, Glasgow and his tall-spired Park Free Church at Helensburgh ( both 1862 ) he adopted the Puginian triple-aisled plan of Emmet's Sandyford, little different from his own Anglican St. Silas, Glasgow ( 1863 ) but, as originally fitted out, both with central pulpits. Trinity differed from the other other two in having slim cast-iron arcades supporting galleries, but at Park which has good masonry arcades without galleries perhaps he foresaw how the liturgy of the Presbyterian church in Scotland would change.
Stevenson's Italian Gothic Kelvinside Free Church ( 1862 ) represented a more typical solution to the problem, little different in principle from Renfield, with slim cast-iron columned arcades bearing galleries at mid-shaft. Its apse contained not the chancel but the gallery stair, a solution also adopted by Honeyman at his now lost Partick Free High Church ( 1869 ) in Hamilton Crescent.
Rather similar internally to Kelvinside was James Salmon's elaborately polychrome interior at Anderston Established Church, Glasgow ( 1864 ) in which his son William Forrest, who was like Stevenson, an assistant of G. G. Scott, probably had a hand. It was built for Mr. Marshall Lang, a pioneer of liturgical improvement, and had an organ from the start. Both churches reflected the influence of G. E. Street rather than Scott.
Leiper's Dowanhill Church, Glasgow ( 1865 ) reflected his stay at Pearson's in its fine Northamptonshire spire, but the problem of providing a large preaching space for a United Presbyterian congregation was overcome by adopting the wide hammer beam roof of E. W. Godwin's Northampton Town Hall.
By the early 1870s, such solutions had ceased to satisfy the more aesthetically-minded congregations. At St. Stephen's Established Church, West Ferry, Dundee ( 1871 ), the English-trained architect Thomas Saunders Robertson set the galleries in masonry arcades in the church he built for Dr. James Cooper, later the moving spirit in the foundation of the Aberdeen Ecclesiological Society. At St. Stephen's, Cooper became embroiled in an interesting dispute with this architect. Cooper sought an apse for his organ and central pulpit. Robertson held that he could only build a square chancel, probably foreseeing that, as actually happened at Govan, it would be found too short and have to be deepened if and when liturgical changes came.
The dispute ended with Cooper resigning and Robertson leaving the congregation. Robertson was also responsible for another remarkable church in Dundee, the twin-towered St. Enoch's Free Church of 1874 which went a step further in that its low French gothic arcades contained no galleries. It too was the subject of dispute, both minister and congregation deserting the Free Church for the more tolerant Established Church in 1875.
At Camphill, Glasgow ( 1875 ), a UP Church, memorable for its great Normandy gothic spire reminiscent of Pearson's at St. Augustine's, Kilburn, London, Leiper sacrificed the single-span uninterrupted vision of his Dowanhill Church to the insertion of good masonry arcades with galleries in the aisles much as at Robertson's St. Stephen's. At Anderston Free ( 1876 ) and Belhaven UP, Glasgow ( 1877 ), James Sellars went further and sacrificed the gallery to a clerestory, as did William Forsyth MacGibbon in his fine Normandy gothic Pollokshields East UP Church in Leslie Street, Glasgow ( 1882 ) which looked like the native of a vast incomplete abbey church and may indeed have been intended to recall Paisley in its unrestored state.
Even more thorough-going were the new Parish Church at Crieff with its Dunblane Cathedral front, nominally by the Crieff architect G. T. Ewing, but probably borrowing from J. M. MacLaren's competition design, and the new Free Church in the same town by J. J. Stevenson, now in London, which also adopted the Dunblane tower. Both were built in 1882.
For those who still preferred an unbroken preaching space, the Sainte Chapelle in Paris provided a convenient model, adopted at Sellars' Hillhead Established Church ( 1875), where the idea is said to have come from his fellow competitor, Leiper, and Robert Baldie's rather similar but long-destroyed Kelvinside UP Church ( 1879 ), both in west-end Glasgow.
Wide preaching churches of the Honeyman and Dowanhill types were not, however, peculiar to presbyterian congregations. G. G. Scott had provided a broad nave and an apse on the Italian friars' church model at St. James Episcopal Churdch, Leith in 1861. So had Mr. Frederick George Lee and Alexander Ellis, it is said with the assistance of a scheme by G. E. Street, at their polychrome Italian gothic St. Mary's Episcopal Church, Aberdeen in 1862 ( Plate 6 ). The last reflected Street's design for the Crimea Memorial Church which may have had some influence on the design of all of these broad-naved churches.
Plate 6
Scott's executant architect at Leith St. James had been his ex-assistant Robert Rowand Anderson who largely succeeded to the Scottish episcopal church building connections of John Henderson when he died in 1862, notably at the James Brooks-alike All Saints, Brougham Place, Edinburgh ( 1865 ) and St. Andrew's Church, St. Andrews ( 1866 ) both with orthodox Tractarian plans. But, at the giant Catholic Apostolic Church, Edinburgh ( begun 1873, Plate 7 ), he adopted the friars' church plan of a broad nave embracing the width of the chancel and its aisles ( Plate 8 ), which, in a more developed form, provided the answer when the Scoto-Catholic minister of Govan, Dr. John Macleod sought a solution to the problem of getting beauty into Presbyterian worship with a preaching church in which the communion table was set up in the chancel in the same central position as an episcopal altar, an arrangement narrowly anticipated at Honeyman's fine Early English Merchiston Establish Church ( now St. Michael's ), Edinburgh, 1882, and paralled at Anderson's own new Parish Church at Glencorse, much smaller but with a neat saddle-backed tower, in 1883.
| | |
| --- | --- |
| | |
| Plate 7 | Plate 8 |
Govan provided the model for J. J. Burnet's equally fine Barony Church, Glasgow ( 1886 ) where the competition was assessed by J. L. Pearson, who had adopted the scheme himself in his magnificent vaulted church of St. John, Red Lion Square, London in 1874 ( Plate 9 ). Anderson was later to adopt it again himself at St. Paul's, Greenock ( 1890 ) but he resorted to conventional English proportions at Morningside South Free Church in 1890.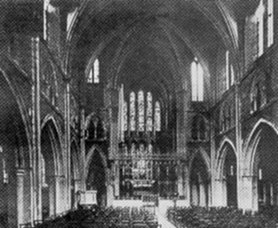 Plate 9
Morningside has a fine lead spire, a feature also intended for his Greenock church. Nevertheless, the Govan plan type had already quickly spread to the Free Church at Hippolyte Blanc's St. Luke's West Ferry ( 1884 ) and Perth Middle Church ( 1887 ) which formed the model for his gargantuan St. Matthew's Established Church in Morningside, Edinburgh in 1889.
Within a few years, the influence of Macleod's movement, and of Principal Cooper's Aberdeen Ecclesiological Society, soon to become the Scottish Ecclesiological Society, resulted in the building of many more Presbyterian churches on the same model with an increasing tendency towards Scots mediaeval forms.
Despite his undisputed standing as the premier Episcopal church designer in Scotland, Rowand Anderson was not among those invited to compete for the greatest Scottish church building project of the age, St. Mary's Episcopal Cathedral in Edinburgh. The Edinburgh architects selected to compete against Scott, Burges and Street in 1872 were the architects to the Walker estate which financed it, John Lessels and Peddie and Kinnear. The Inverness architect Alexander Ross, author of the twin-towered Cathedral of St. Andrew at Inverness ( 1866 ) was also invited, submitting a design largely by his London collaborator, George Freeth Roper. The assessor, Ewan Christian, recommended Street, but the chosen design, perhaps wisely, was that of Scott. Neither of these had any relevance, except perhaps for some details at St. Mary's, to presbyterian church design, but the second truly major church building commission of the age, the Coats Memorial Baptist Church at Paisley did.
Anderson was not among those selected to compete and the assessor, James Sellars, preferred Blanc's design to Burnet's ( Plate 10 ) in 1885. As at St. Mary's, the deciding factor was clearly a cathedral-like image with a great central tower. Where Anderson and Burnet had solved the problem of the wide preaching nave straightforwardly, Blanc solved it by architectural sleight of hand, in taking his oblong crossing to a square crown tower at roof level with a chancel of conventional proportions beyond.
Plate 10
In the event, Burnet had a rather wider influence on later 19th century church design than Anderson. It was a period of great liturgically-designed memorial churches. The design of Burnet's Barony Church ( Plate 11 ) was in varying degrees reflected in several major churches, perhaps most notably at his partner John A. Campbell's exactly contemporary Shawlands Parish Church ( 1885-89 ) and at T. G. Abercrombie's Clark Memorial Church at Largs ( 1892 ) at which Abercrombie was assisted by Burnet's ex-assistant William Kerr.
Plate 11
In the big roofed, low-walled churches with sturdy towers and mixed late Gothic and Romanesque motifs Burnet designed at St. Molio's, Shiskine ( 1886 ), Dundas UP, Grangemouth ( 1894 ), the Gardner Memorial at Brechin ( 1896 ) and the Maclaren Memorial at Stenhousemuir ( 1897 ), Burnet introduced a markedly Scottish character constrasted with English Tudor half-timbered porches.
Uniquely, the Gardner Memorial has a rood beam, indicating how far liturgical change was thought likely to go. Correspondence at Grangemouth reveals that Burnet favoured the type because they were inexpensive to construct leaving funds available for high-quality detail.
Other Glasgow architects, notably W. G. Rowan and H. E. Clifford, followed his lead at St. Margaret's, Tollcross and St. Michael's, Carntyne respectively ( both 1902 ). The type soon spread elsewhere, a particularly good example being Thomas & Wilkie's Free Church at Edzell ( 1900 ), now destroyed. Although taller and shorter to fit the site, Charles Rennie Mackintosh's Queen's Cross Free Church, Glasgow ( 1898 ) has points in common with these churches. Like Burnet's Gardner Memorial, it has a rood beam, recently reinstated.
The 1880s saw, for the first time, a more conscious attention to Scottish rather than English and French models. Surprisingly the trend had begun with the English architect Sir George Gilbert Scott at St. Mary's, Edinburgh which drew upon features from Holyrood, Dunblane, Elgin and Jeburgh, as well as northern English sources. The adoption of the Dunblane front by Stevenson and Ewing at Crieff and by Burnet and Campbell at Barony and Shawlands, observed earlier, was echoed throughout the land at a considerable number of churches, great and small, not least at Burnet's own West Church, Port Glasgow, and Arbroath Old.
Anderson's borrowings at Govan were less obvious. The tall, spare lancets of the gable front at Govan are Scottish, though whether adapted from the transept front at Kilwinning or the west front of Beauly is difficult to say. The stepped hoodmould linking them appears to have been taken from the monastic buildings at Dryburgh. The chancel gable was adopted from the transept gable at Pluscarden. The round tower proposed in some of his schemes and for Govan, although anticipated by William Burges in his designs for Temple Brady in Ireland, was a conscious tribute to the antiquity of the site. Anderson proposed another such tower for St. Margaret's Roman Catholic Church, Dunfermline ( 1894 ) but it too remained unbuilt. It was left to MacGregor Chalmers to take up the theme.
The revival of the more characteristic late Scots gothic forms came surprisingly late, despite the excellent illustrations provided by Billings. Only Bryce had adopted it with his experience of Edinburgh's Trinity College Church in mind, successfully at the Parish Church of Carnwath ( 1866 ) and not very successfully at the Parish Church of St. Mungo ( 1875 ). Surprisingly, the first major late Scots Gothic building, the crown-towered St. Leonard's-in-the-Fields Free Church at Perth ( 1885 ) was designed from London by J. J. Stevenson, who later designed the Stevenson Memorial, Glasgow and the Peter Memorial Church, Stirling, in the same vein.
Thereafter, the late Scots gothic manner was taken up enthusiastically by a number of architects. Had it been completes as originally designed, one of the best of these would have been St. Margaret's Established Church in Barnhill, Dundee, designed by the Aberdeen architect Charles Carmichael ( who sadly died young in Johannesburg ) for a follower of Principal Cooper, Mr. T. Newbiggin Adamson. In completed form, it would have resembled the Collegiate Church at Biggar, although some of its details were drawn from Whitekirk.
Like Peyton at St. Luke's Free, a few miles to the west, Adamson was soon embroiled in litigation. Mr. Jacob Primmer of Dunfermline descended on the church to investigate reports of high church liturgy, a matter which occupied the attention of the General Assembly for several years. Beautifying the worship of the Established Church was still not without its hazards.
More imaginative essays in the late Scots gothic manner were John Kinross' Roman Catholic Church of Our Lady of Perpetual Succour at Chapeltown, Glenlivet ( 1897 ), Sidney Mitchell's reconstruction of the Parish Church at Chirnside ( c.1908 ), Lorimer's pupil Ramsay Traquair's Christian Science Church, Inverleith, Edinburgh ( 1910 ); and Reginald Fairlie's Our Lady and St. Meddan's Roman Catholic Church, Troon ( 1911 ), all with oblong towers; and, most ambitiously of all, the Aberdeen architect Alexander Marshall Mackenzie's cathedral-like Lowson Memorial Established Church, Forfar ( 1912 ) with its central St. Monance spire and Duffus-like manse. Although the overall effect was perhaps English rather than Scottish, late Scots gothic detail is also evident in two outstandingly fine episcopal churches by the London-based architect John Ninian Comper who had Aberdonian origins at St. Margaret's, Braemar ( 1898 ) and St. Mary's, Kirriemuir ( 1904 ).
Scottish also in origin were the Romanesque churches built for Established Church congregations by Dr. Peter MacGregor Chalmers, a pupil of John Honeyman, though not all of them received the St. Rule and Brechin towers intended for them. Complete examples can be seen at St. Ninian's, Prestwick ( 1908 ), St. Leonard's, Dunfermline ( c.1900 ) and Kirn ( 1906 ). A particularly fine example, elaborating the Dalmeny model, is St. Leonard's, St. Andrews ( 1902 ) ( Plate 12 ). Some of his later churches show marked continental influence, Italian at St. Anne's, Corstorphine and German at St. Margaret's, Newlands ( 1912 ).
Plate 12
In Dundee, Frank Thomson worked in the same vein at St. John's Cross ( 1912 ), close to Govan and Barony on plan with double arches at the transepts. St. John's was echoed in a late example in the same city, Craigiebank ( 1937-39 ).
Sydney Mitchell's cathedral-like Crichton Memorial Chirch at Chrichton Royal Hospital Dumfries ( 1890 ), the greatest ecclesiastical commission of the 1890s, was unaffected by this new sense of Scottish identity in church design, as indeed were most of his churches which tended to follow Rowand Anderson's late gothic models, most notably at Belford Free Church ( 1888 ) and Candlish Free Church ( 1900 ) both in Edinburgh. As with his domestic work, some are strong in concept but indifferent in execution reflecting his over-large practice. A few of his late churches, Port Ellen ( 1898 ) and the very remarkable Chalmers Memorial United Free Church, Cockenzie ( 1904 ), are unusual in that they reflect Scandinavian influence.
Like the art-nouveau neo-perpendicular of Mackintosh's Queen's Cross Free Church, and of W. D. MacLennan's much more wayward St. George's UF ( now St. Matthew's ) Paisley ( 1904 ), the Scandinavian originality of Mitchell's Chalmers Church was a turn of the century counterpart to the churches of Pilkington, Pirie and the Peddies in the 1860s, 1870s and 1880s. It is noticeable that virtually all of these churches were built for Free and United Presbyterian, and after the merger of 1900, United Free Church congregations.
Stylistically, Established and Episcopal church building tended to remain rooted firmly within the English and Scottish neo-mediaeval traditions. By the end of the first decade of the new century, there was little to distinguish new United Free church buildings from those of the Established Church either in style plan or furnishing. The revolution initiated by Macleod and Anderson was complete. It was no doubt one of the considerations in Burnet's mind when he persuaded the Royal Institute of British Architects to aware the 82 year old Anderson the Royal Gold Medal in 1916. Burnet's own memorial chapel at the University of Glasgow ( designed 1913, built 1923-27 ) was his final tribute to the Govan ideal.
In this paper, which has been developed from the relevant sections of my 1990-1991 Rhind lectures, The Revival of Mediaeval and Early Renaissance Architecture in Scotland, 1745-1929, I have tried to complement Dr. Sam McKinstry's excellent paper The Architecture of Govan Old Parish Church published in the Second Annual Report.
The Rhind lectures were commissioned as a centenary tribute to Rowand Anderson's Findlay Building comprising the Scottish National Portrait Gallery and the National Museum of Antiquities, which, together with the same architect's Mount Stuart, represented the supreme achievement of the Gothic revival in Scotland insofar as secular architecture was concerned. Much the same could be said of Govan and Barony, even if they are much less elaborate than Coats Memorial. But, whereas the Findlay Building and Mount Stuart were the last of their kind, Govan Old was both an end and a beginning. It transformed Scottish Presbyterian church planning as no building had done before, or is ever likely to do again.