Govan has remarkable heritage of early Christian carved stones. No fewer than thirty-one monuments survive, mostly intact and highly decorated. They span the 9th to 10th centuries, and they represent one of the largest and most interesting collections of early mediaeval sculpture in Scotland. They range from a sarcophagus and recumbent cross-slabs to free-standing crosses and cross-slabs, together with a remarkable group of five hogback monuments.

They imply the existence not only of an early church at Govan, the enclosure of which is likely to be reflected in part by the line of the current graveyard wall, but also of a wealthy secular community nearby.

Much of the sculpture lies within a local Strathclyde tradition, but there are also strong links with Pictland to the north and Cumbria to the south.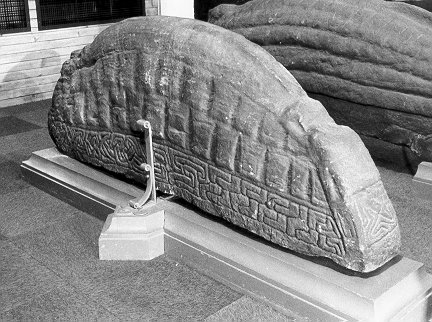 Govan 2: Hogback (Photograph Copyright ©2000 Alligator Descartes)