John Macleod Centenary Lecture -- The Annual Lecture given at Govan Old on 14 March 1998

By

Ian C. Bradley, M.A., B.D., D.Phil.
Senior Lecturer in Church History / Practical Theology, University of Aberdeen
It is a great pleasure and privilege to give this memorial lecture on the occasion of the centenary of the death of John Macleod and to offer some thoughts and perspectives on the life and thought of the giant who is, if we believe at all in the communion of saints, almost physically and certainly surely spiritually in our midst one hundred years since he died "in high and spotless honour"[1].
"He was a man of singular presence, very tall, very perfectly built, rugged of feature, in some indescribable way magnificent. He arrested one from the moment of his entrance to the church: he held one till he left"[2]. So wrote Henry Wotherspoon about his friend and mentor. It is not quite the impression that one gets from the drooping walrus moustache and the slightly hooded eyes of the familiar photograph that is our main record of what John Macleod looked like. Yet even if there is some wholly understandable and pardonable hero-worship and hagiography in that statement, I suspect that it takes us to the heart of the character who is our subject today and explains why he is so difficult to encapsulate in an address such as this. Clearly a large part of the greatness, the magic, the charisma of John Macleod was contained in his very presence -- and even given what I have just said about the communion of saints, that presence is almost impossible for us to encounter and experience a hundred years after his death.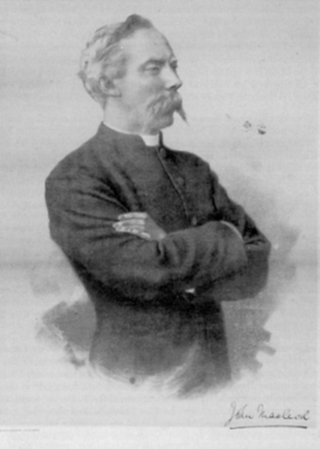 The Revd John Macleod, minister of Govan Parish 1875-98
What I want to try and do is explore the character and the significance of Macleod with reference to and through the milieux in which he operated. In particular, I want to try and put him into the context of his times by identifying the dominant facets of his life. Being, like him, a good Trinitarian, and a Church of Scotland minister who cannot resist preaching in triplets, there are three particular milieux or aspects of the main that seem to me to be especially important both if we are to understand his singularity and also relate him to his times. I want to spend the rest of this lecture considering John Macleod the West Highlander, John Macleod the parish minister and John Macleod the theologian of sacrifice.
1. John Macleod, the West Highlander
John Macleod, as we all know, was a son of Argyll, and specifically of the Morvern peninsula. He was also, of course, a scion of that extraordinary dynasty that has almost certainly contributed more than any other single family to the life of the Scottish church. To quote another purple passage from a source I have already used: "What a line he came from! One can't help being moved and provoked on visiting that simple Highland graveyard, clinging to a still simpler kirk, with the wind rustling the bent and the beauty of sun filling the Sound of Mull below. One can't help being stirred on reading, through a railing, a tomstone which enshrines the names of more distinguished and related Doctors of Divinity and Deans of the Thistle than, I believe, any other in the whole of Scotland. The one understands the inherited zeal and passionate power he possessed -- as did another Macleod later in our history"[3].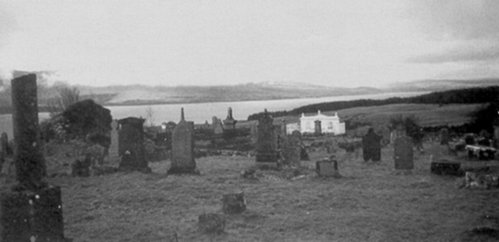 Macleod Memorial ( white monument ), Keil Graveyard, Lochaline, Morvern
Now the question arises, which was the more formative and important influence on Macleod -- his family line or his West Highland blood? Was it the fact that he was a Macleod that made him what it was, or the fact that he was a West Highlander? I want, rather novelly and unusually, to suggest that it was perhaps the latter. Of course, there are aspects of Macleod's life and thought which strongly echo and pre-echo characteristics found in some of his most distinguished ancestors and descendants. There are very close parallels between his remarkable ministry here in Govan between 1875 and 1989, that of his first cousin, Norman, at the Barony Church, Glasgow, between 1851 and 1872, and that of his cousin twice removed, George, at Govan between 1930 and 1938. His particular brand of Scoto-Catholicism and passionate commitment to the centrality of the sacrament of the Lord's Supper in worship echoes the position of his first cousin Donald and in many ways anticipates the thinking of George. Clearly there are Macleod genes which favour liturgical reform, somewhat contentious Presbyterian Popery and extraordinary devotion to parish ministry.
I think that there may have been a broader influence at work as well in determining the make-up and character of John Macleod. I want to call it the West Highland factor. Whether it is genetic, environmental, geographical or ethnic, I am not quite sure. I suspect that there is an element of sentiment and prejudice in my assertion of it and I had better come clean and admit to being, if not quite a son of Argyll, having the misfortune to be born in the decidedly un-Celtic and prosaic surroundings of Berkhamstead, at least one whose mother comes from generations of south Argyll stock and who was rushed up from the Home Counties to Campbell country to be baptised.
There is, I think, room for a thesis on the extent to which Argyll born or based ministers have contributed to movements associated with the more liturgical, mystical and catholic end of the Church of Scotland. I have a sense, and this may be no more than wishful thinking, that their contribution would be found to be disproportionate. One possible reason for this may be the loyalty to the established church of those who might in other areas have defected to the Episcopal Church. This may have something to do with the loyalty of successive Dukes of Argyll to the Kirk and the character of the Presbyterianism of the much maligned Campbells.
More importantly, though even more speculatively, I wonder if we encounter in Argyll folk a particularly pure and distinctive manifestation of the Celtic temperament. Now, this is a notoriously slippery term and one which I myself am increasingly uneasy about using. Yet, if any region of Scotland deserves the epithet Celtic, it is surely this, the site of the Irish kingdom of Dal Riata, the heartland of the Scoti immigrants from Ireland, the base of Columba and the other great Irish missionaries like Maelrubha and Moluag. I think we can see an undeniable Celtic element in Macleod's make-up. It is not the mystical second sight and sixth sense of the Outer Hebridean, nor the harsh Calvanism of the northern Highlander. It is rather the gentler, more open but no less spiritual quality which perhaps distinguishes the West Highland Celtic temperament.
Is it wholly fanciful to see coursing through John Macleod's veins the blood of Columba? Like Columba, he was a poet, writing a considerable corpus of verse, not least about his beloved Morvern to which he returned for several weeks every summer throughout his life, and leaving us in his hymns, one of which we will sing later this afternoon and several more at tomorrow morning's service, a marvellous example of that distinctively Celtic approach which expresses the faith in images and poems rather than concepts and prose. Like Columba, too, Macleod had a strong attachment to the spiritual dimension of Christianity. There is a fascinating footnote early on in Roger Kirkpatrick's study of his ministry at Govan, delivered in 1913 as the seventh Macleod Memorial Lecture, which speaks of his coming while at Duns "under the influence of that spiritual teaching which so profoundly affected the whole of his subsequent life and ministry". Kirkpatrick goes on to record that "the key to everything distinctive in his religious and ecclesiastical attitude and convictions lies in that unrecorded passage of his spritual development. Should the story of it ever be told, it will be found a story of arresting interest"[4].
Is this a veiled reference to Macleod's involvement with the Irvingites and the Catholic Apostolic Church? Can we indeed, relate his attraction to this charismatic movement to his West Highland Gaelic temperament and his simultaneous exercise of the office of "presbyter sealed" in the Catholic Apostolic Church and minister of the Church of Scotland to his Argyllshire blood? I find it significant that the origins of the Irvingite movement are generally traced to the religious experiences of a trio from Greenock, which almost counts as Argyll, one of them a Campbell to boot, Mary of that ilk, the others, honesty compels me to admit, Macdonalds, the brothers James and George. The mid-nineteenth century Catholic Apostolic Church had much in common with the doctrines and experiences of the sixth and seventh century Columban Church in its conviction of the nearness of the Second Coming and the breaking in of the Kingdom, its enthusiasm for charismatic gifts, signs of the Spirit and prophetic ministry and its emphasis on dignified liturgy.
If Macleod, the Argyllshire Celt, was instinctively attracted to the ideas and practices of Edward Irving, then Macleod the humanitarian was perhaps more consciously also attracted by Irving's strong stress on the humanity and human brotherhood of Christ. This was, of course, a relatively common theme in later nineteenth century theology and one did not need to be a charismatic or a Catholic apostle to pursue it. Its greatest exponent was, I suppose, F. D. Maurice and perhaps his greatest disciple in Scotland, Macleod's near contemporary, the blind George Matheson, in this case an Argyll man by adoption and residence rather than birth, ministering at Innellan from 1868 to 1886. There were, indeed, close relations between Macleod and Matheson and close parallels between their theology as I shall be exploring later.
I do not want to over-do the Argyll, West Highland, Dal Riatan Gaelic/Celtic element in Macleod's make-up but I feel that it is worth flagging up and would bear further exploration.
2. John Macleod, the parish minister
Let me now turn to a less contentious area. Anyone making the most cursory survey of Macleod's life must be struck by his remarkable energy and achievements in parish ministry. This was almost literally his life's work -- he was inducted into his first charge at Newton on Ayr two months after his 21st birthday and spent the next 37 years as a parish minister, first in Duns and then at Govan, until his untimely death very much in harness at the age of 58. It is his period at Govan on which I want especially to concentrate.
Macleod's commitment was overwhelmingly and unequivocally to parish rather than congregational ministry: "A Parish Minister is the servant not of a congregation only, but of the Parish. If I could suppose a case to arise in which my duty to the parish would seem to come into collision with my duty to the congregation, I would have to regard the former as having the prior claim"[5]. This commitment sounds through both his utterances and his actions. The pastoral letters which he regularly sent out from Govan Parish Church were addressed to parishioners rather than members of the congregation. The parish rather than the communicant roll was the basis for the intensive programme of house to house visiting which he carried out with his assistants. It was also the constituency from which he drew the members of the weekday teaching sessions on the Gospels, the Sacraments and the Christian life which he led single-handedly through eight months of every year.
The statistics of Govan parish during Macleod's incumbency are staggering for the modern minister to contemplate. The total population of the old parish when he began in 1876 stood at 220,000. It had increased by more that fivefold over the past forty years and is generally agreed by historians to have experienced the greatest growth of any parish in the United Kingdom in the nineteenth century. By 1892, it was up to 278.976. Not all of these souls, of course, looked directly to the minister of Govan Old for their spiritual care. A fair proportion were Roman Catholics or belonged to other denominations and there were already other Church of Scotland churches and chapels within the parish when he came in. A major part of his strategy was, of course, to add to these by planning and planting new churches to cater for the huge population in the old Govan parish.
Macleod's formidable personal programme of church extension work is well known. It was not, of course, unique even if its scope was exceptional. It followed in the great tradition of urban church extension pioneered in Scotland by Thomas Chalmers and vigorously pursued by other mid-Victorian ministers, notably in Glasgow. What was, perhaps, unique about Macleod's project was his vision of the old parish church of Govan, rebuilt and reopened in 1888, as the mother church of the whole parish. This, in a sense, recalled a feature of the old Celtic Church, continued in the early mediaeval Scottish church in the period before the establishment of a settled territorial diocesan and parish system whereby teams of itinerant missionary and pastoral clergy went out from their bases to evangelise and minister to surrounding areas. Something of this spirit seems to have infused Macleod and his team of three or four assistants based at Govan Old but reaching out to the whole parish.
Undated pencil drawing of Govan Parish Church, with the great tower that was never built
Concentrating just on the regular membership of the church would have been a big enough task in itself -- the communicant roll was over 2000 when Macleod came to Govan in 1875 and increased steadily throughout his time there -- but the whole focuse of Macleod's team ministry based at Govan Old was on the wider parish. He wrote in a pastoral letter issued in April 1892: "One of the principal features of such an organisation is in the combination of persistent house-to-house visitation, especially among the careless, with the provision of adequate services in a free and open church"[6]. The programme of visiting was unremitting. Each assistant at Govan Old was expected to visit at least 50 families a week, exclusive of visits to the sick and merely nominal calls. Macleod imposed at least as demanding a schedule of parish visitation on himself and it is not surprising to read in the same pastoral letter that over the winter of 1891-2 well over 2,500 families had been visited.
These were not peromptory calls. Macleod's reference to the careless is highly significant. He sought above all to reach those who were unchurched and to offer them spiritual care. There is a further Celtic note here in his use of the term "Director of Souls" with its echoes of the Irish concept of anamchara, or soul-friend. The duty of such a figure, he believed, was "to lead the people on, step by step, out of darkness and indifference, into conscious liberty, conscious power, conscious surrender, conscious peace"[7]. To this end, his assistants were directed to spend at least fifteen minutes on each visit. "Words of counsel, encouragement, or warning, according to the circumstances, should be spoken in every family, and prayer should invariably be offered up"[8]. A table of church services was left with every non-church going family and frequent mission services were held to attract non-church-goers in addition to the weekday instructions and the monthly celebrations of Communion which were, for Macleod, "the centre and stay of such work"[9].
For Macleod, the parish was more than just a vast mission field and the church's purpose within it more than just getting as many people as possible to Sunday worship. Mission, evangelism, instruction in the faith and above all worship were at the heart of his understanding of the calling of the church and the ordained ministry but they were far from being its only functions in his eyes. Those living within the bounds of the parish, irrespective of their religious affiliations or lack of them, needed physical as well as spiritual care. Macleod threw himself into schemes of social service. He took a keen interest in education, serving on the local School Board from 1871-83 and 1885-6 and setting up a Young Men's Literary Association which was deliberately organised on a parish wide rather than congregational basis. He was deeply involved in the setting up of soup kitchens at times of economic depression and slump in the shipyards and distributing relief to the poor in the parish. He was constantly approached by those seeking employment and helped many to find jobs.
There are, of course, other shining examples of tireless and devoted parish ministries in the Victorian Kirk, not least that of Norman Macleod at the Barony. John Macleod's exercise of his ministry at Govan fits into a pattern that can be seen perhaps especially in Glasgow in the mid and later nineteenth century in which mission, worship, instruction and social service were combined in a way and on a scale that seems almost superhuman. Where perhaps Macleod made his most distinctive contribution was in his vision of Govan Old as the mother church with the other churches in the old parish as satellites, although I am not sure that the implications of this arrangement were ever fully worked out or realised, and in linking his commitment to the parish rather than just the congregation to the wider principle of church establishment, or as he would say, church defence. I want to end this second section of my paper on John Macleod, the parish minister, with some brief thoughts on John Macleod, the defender of church establishment, because the two roles are inextricably linked.
Macleod's role as the effective and acknowledged leader of the cause of Church Defence during the disestablishment crisis of 1893-4 has not attracted anything the same attention among historians as his liturgical activities. Maybe that is because there are not many of us who find the whole question of church establishment both fascinating and still relevant. His assumption of this role was a natural extension and expression of his deep commitment to the idea of parish rather than congregational ministry, for this is what he considered to be the proper business and indeed the ultimate justification of established churches. Macleod took extremely seriously the Church of Scotland's position as a national church which he saw as giving it the God-given duty to minister and serve the whole nation:
A State-connected Church, such as exists in England, or even in Scotland, may be far removed from the true ideal, but I am persuaded that it is nevertheless among the most important and powerful of "the things that remain" as a restraint on vast confusion. It secures in a definite and well-ordered way the national recognition of Almighty God as the Ruler of Nations, and the freer, more systematic, and more comprehensive ministration of the ordinances of the Gospel to all[10].
The implication in the beginning of that quotation that the Church of England perhaps represented a better form of establishment than the Church of Scotland is significant. Like other prominent Scottish defenders of establishment, Macleod to some extent looked to the Church of England as a model. He always referred to it rather than other Scottish Presbyterian churches like the Free Church or the United Presbyterian Church as "our sister church" and commended its prayers on the Queen, Parliament and the nation to be used throughout the Kirk during the disestablishment crisis. Like others prominent in the Church Defence movement, and other Macleods of various political persuasions, he had a strong and abiding attachment to the monarchy. He also had a high notion of the Christian nature of the state, which again seem to be drawn more the very English and Anglican though of Coleridge and Arnold than the "two kingdoms" doctrine of Alexander Melville and the Scottish Presbyterian tradition -- although there are also echoes of Chalmers and, dare I suggest of the Argyll school, in his passionate defence of the notion of the Christian state:
"The...issue is simply whether the State is or is not any longer to remain professedly Christian, and therefore to acknowledge, as it has done for centuries, by its representatives and official actions, the existence and Divine mission of the Church of God..."

""It is the duty of a Christian State to sustain a national confession of the Christian religion, and to consecrate the national life in all things by the obedience of Faith", and under that banner at all hazards to defend the right IN THE NAME OF GOD"[11]
3. John Macleod, the theologian of sacrifice
John Macleod's impassioned defence of the principle of church establishment puts down certain markers as to his theological position. On the whole it has been liberals who have supported establishments, while evangelicals, supported to some extent by those of a catholic disposition, have opposed it because of its tendency to produce broad, comprehensive churches decidedly fuzzy at the edges when it comes to doctrine and inclined to be all things to all men.
So we would expect to find Macleod the advocate of church defence to be a liberal in theological terms. So to a considerable extent he was -- although not as much as his first cousin Norman of the Barony. He stood in a very distinct Victorian theological tradition which is a considerable distance away from what passes as liberal theology in the late twentieth century.
Macleod was not primarily or even secondarily a theologian, of course. It this he differed from his near-contemporary, George Matheson, to whom I earlier compared him. Despite his blindness, Matheson wrote a number of serious and seriously under-rated theological tomes. Macleod, his formidable energies fully committed elsewhere, has left no serious theological works. All that we have are two slim volumes of sermons gathered together and published after his death, both of which are as much if not more devotional than theological -- "The Gospel of the Holy Communion" and "The Seven Sayings of our Lord on the Cross".
Why then am I devoting a whole section of this paper to the subject of Macleod as theologian? Partly because this has been less investigated that other aspects of his life and thought and it is always interesting to go where others have not trod, and also because I believe that we find in his theology the central doctrine which both inspired and drove him and which undergirded his most deeply held belief.
The essence of Macleod's theology is to be found in his statement in "The Gospel of the Holy Communion" that "the obligation of sacrifice" ( his italics ) is "the law of Christian life which Jesus enunciated for Himself and for His followers when He said, "Except a corn of wheat fall into the ground and die, it abideth alone: but if it die, it bringeth forth much fruit"[12]. The use of this phrase, and this particular Biblical text, in the context of a series of sermons which are laden with sacrificial imagery and references, is highly suggestive. It locates Macleod firmly in the great Victorian tradition of sacrificial theology, established in mid-nineteenth century England by F. W. Robertson and F. D. Maurice, enthusiastically taken up by Christian Socialists like Thomas Hughes and Charles Kingsley, liberal idealists such as T. H. Green, and those High Churchmen involved in the Lux Mundi movement, of whom the outstanding exemplars were Charles Gore, Robert Campbell Moberley ( the Campbells are coming again! ) and Henry Scott Holland. In Scotland, the leading exponent of this sacrificial theology was George Matheson, who expressed the power of sacrifice in his poem "The Divine Plan of Creation" and those memorable closing lines of "O love that wilt not let me go" ( "And from the ground there blossoms red/Life that shall endless be" ) where, as he later wrote, "I took red as the symbol of that sacrificial life which blooms by shedding itself"[13].
As for these men, Macleod's sacrificial theology was worked out at a number of levels. It had a clear ethical and behavioural dimension. Life was to be lived according to the principles of selfless and costly self-giving revealed and exemplified by Jesus Christ. For him, "thankfulness, fellowship, [and] sacrifice" were the "elements of the distinctive Christian morality"[14]. His own life, of course, was a classic example of what we now rather inelegantly and inadequately call ministerial burn-out, a paradigm of almost reckless sacrificial pouring out of talents, time and energy. He had almost literally spent himself when he died at the age of 58 in the midst of what might perhaps have been is most significant and lasting contribution to the Church of Scotland in the area of church reform.
At a deeper level, Macleod's spending of himself was a response to his overwhelming sense of the power and significance of Christ's sacrifice, made not just on Calvary but perpetually in heaven. Following Gore, Matheson and perhaps more directly William Milligan of Aberdeen, Macleod strongly emphasized the eternal priesthood of Christ. He may well have been much influenced here by his contact with Edward Irving who also held a high doctrine of the eternal priesthood of Christ. He is perhaps at his most eloquent when writing and reaching on this theme:
My brethren, the offering of our Lord Jesus Christ was not finished on the Cross...the greater, and equally essential, the more glorious, and the abiding part of the offering of Jesus Christ had still to be presented, and it was presented...He took the blood that had been sacrificed upon the Cross, the blood that had been shed in death, back to Himself, and went into the sanctuary of God to consecrate that life for ever...after the Resurrection, God consecrated Him to be a Priest...[and] said, "Thou art a Priest" -- not for a few minutes on the Cross, but -- "for ever"[15]
For Macleod, as for the Anglican High Churchman Charles Gore and more than for the liberal Presbyterian George Matheson, the focus of Christ's eternal priesthood and sacrifice is on the heavenly altar:
If Christ is a priest still, what then must be His altar? Christ's altar...is the altar at which He stands in Heaven. There is an altar in Heaven, whatever we may say about the altar on earth...The Apostle say "We have an altar", and many an evangelical explains this by saying, "We have not an altar". I stand forth and say, "We have an altar", that altar which is a spiritual reality, that altar which is in Heaven at which Jesus stands, at which we stand in Him, and on which we are called to present towards the Father a spiritual sacrifice, the Eucharist of Thanksgiving. Then we go forth into the world "to do good and to communicate forget not -- for with such sacrifice God is well pleased."[16]
Here we reach the heart of Macleod's sacrificial theology. It is absolutely and totally focussed on the Eucharist understood as sacrifice, not in the sense of a repetition or re-enacting of the sacrifice on Calvary, made once and once only, but a mysterious and essentially joyful participation in and linking with the perpetual sacrifice made by the risen and ascended Christ, the great high priest, on the altar in Heaven.
I have said almost nothing in this paper about the liturgical reforms with which John Macleod is associated perhaps above all others in the nineteenth century Church of Scotland. This is partly because this area has been so well covered by others, notably Dr. Douglas Murray, and partly because that is the subject to which I propse to turn in the more appropriate setting of the sanctuary when I preach on Macleod's understanding of the nature of Christian worship in Govan Old Church tomorrow morning. But it is principally because believe that the whole panoply of liturgical reforms which Macleod set in train and which landed him in so much trouble, the observance of Holy Week, the dressing of the communion table with a cloth embroidered with a Cross, the daily services, the layout of the sanctuary in the rebuilt Govan Church, and above all the more frequent celebrations of communion were grounded in his theology of sacrifice and specifically his sense of the encounter in the Eucharist with Christ the eternally sacrificing High Priest:
I cannot find words to express how profound is my conviction that a deeper spiritual life cannot be reached until men realise...their vocation as consecrated worshippers, and the provision that has been made for the fulfilling and presenting before God the Sacrifice of Thanksgiving in the Holy Supper.
It is obvious that there flows from that, not merely the necessity of the perpetual celebration of the Holy Communion, but also the propriety of celebrating it with joy...When we go up to that Holy Rite, we go -- not so much remembering the sacrifice finished amid such appalling darkness on the Cross, but -- remembering our unity with the Saviour who is alive, with the risen Jesus, realising his Priesthood and our unity with Him, and the triumph and the joy of the Resurrection Life[16].
Notes:
John C. MacFarlane, An Outline History of Govan Old Parish Church ( Glasgow, 1965 ), p.51
Ibid. p.49
Ibid. p.49
Roger S. Kilpatrick, The Ministry of Dr. John Macleod in the Parish of Govan ( Edinburgh, 1915 ), p.10 note 1.
Ibid. pp.10-11
Pastoral Letter, 6 April, 1892, p.1
John Macleod, The Seven Sayings of our Lord on the Cross ( Glasgow, 1928 ), p.9
"Memorandum relating to Assistants' work", appendix no. XI in R. S. Kirkpatrick, p.277
Pastoral Letter, 6 April, 1892, p.1
Pastoral Letter, 29 October 1885, p.2
R. S. Kirkpatrick, p.159,161
J. Macleod, The Gospel of the Holy Communion ( Glasgow, 1907 and 1927 ), p.3
Ian C. Bradley, ed., O Love that wilt not let me go ( London, 1990 ), pp.39-40. The whole subject of nineteenth century sacrificial theology is dealt with in my book, The Power of Sacrifice ( London, 1995 ), Chapter 6
J. Macleod, The Gospel of the Holy Communion, p.3
Ibid. p.100,103
Ibid. pp.109-10
Ibid. p.110